Posted January 03, 2022 in Facial Rejuvenation, Skin Care Treatments
4 Minute Read: 
Caring for your skin is a matter of developing good habits and seeking professional care as needed. At certain stages of life, more intervention may be welcome. But the goal is to stay ahead of the curve with products and procedures that reap exponential benefits in the next stage of life.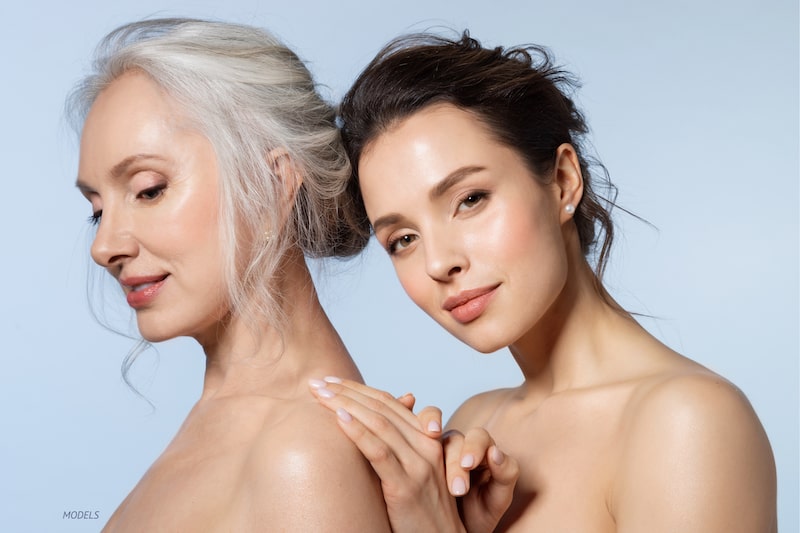 Here's an age-appropriate primer of recommended at-home and cosmetic procedure options.
Your Twenties
Collagen and elastin, the building blocks of beautiful, healthy skin, can begin to slow production even for women in their twenties. This is when proactive and strategic anti-aging treatments can begin. The more you care for your skin in your twenties, the bigger the rewards as you age. So, develop a great skin care regime early.
Best at-home habits: wear sunscreen religiously, exfoliate, discover the right skin hydration products for your needs
Best interventions: quality skin care products (such as SkinMedica), adult acne treatments, skin peels, injectables for spot wrinkles and lines
Your Thirties
Life can be busy in your thirties, and lack of sleep and stress can start to take a toll on your skin. Now is the time to ramp up cleansing and moisturizing routines by introducing products containing antioxidants and retinol-based ingredients to soothe and invigorate ravaged skin.
Best at-home habits: drink lots of water and keep skin hydrated, use sunscreen
Best interventions: injectables for trouble spots that may start showing on the forehead, diligent at-home skin care routine, peels, and laser treatments
Your Forties
The forties is when real changes in your skin start to become noticed. Early sun damage starts to show, and skin begins to lose elasticity –– causing sagging tissues, droopy eyelids, and jowls. 
Best at-home habits: use sunscreen, focus on neck and hand skin aging when moisturizing
Best interventions: brow lift surgery, eyelid lift, injectables to keep lines and wrinkles at bay, good quality skin care routine
Your Fifties and Up
Peri-menopause and menopause can wreak havoc on skin as it thins and begins to show laxity. Plastic surgery is more of an option now. You can discuss your procedure options during a consultation with a board-certified plastic surgeon.
Best at-home habits: use sunscreen and physical protection (hats, UV-resistant clothing) especially for the face and hands, take vitamin C, D, E, and K supplements to boost cellular production.
Best interventions: facelift surgery, brow lift surgery, eyelid lift surgery
Interested in Upping Your Skin Health?
If you live in the greater Dallas, Texas, area and would like to know more about what treatments, products, and procedures are most recommended for your age group, give the friendly team at David E. Morales MD a call. 
They can answer all your questions, outline clinic services, and schedule your consultation with a board-certified plastic surgeon or cosmetic technician. Call 214-827-8407 today, or fill out our online contact form.