Breast Lift
What is a Breast Lift Procedure ( Mastopexy )?
A breast lift, also known as a mastopexy, is a procedure to raise and reshape sagging breasts that have lost their shape and fullness over time due to loss of skin elasticity. As a woman ages, nursing, gravity and fluctuations in weight cause the breasts to lose their natural shape and firmness. This procedure is designed to elevate the breasts and give them a more youthful appearance. A breast lift may be completed in conjunction with breast enhancement surgery. Breast lifts address the loose skin while an implant addresses the breast volume. These are separate and distinct issues that must be specifically corrected.
Benefits of a Breast Lift Procedure
To elevate the breast due to sagging caused by age and gravity.
To firm the breasts if the have lost substance due to breast feeding after pregnancy.
To restore symmetry if the nipples point down, to the sides or asymmetrically.
To restore volume after weight loss.
What to Expect During Surgery
A breast lift procedure will vary considerably depending on the amount of sagging. Techniques vary, but usually will involve either an incision around part, or all of the areola of the nipple, a vertical incision extending from the nipple to the breast crease, or an incision along the breast crease itself. These incisions are referred to sometimes as a "crescent," a "dough-nut or concentric type," or an "anchor type" of incision. Once you have been properly measured by your physician and the amount of breast drop assessed, your specific surgical need can then be discussed to maximize your result, while minimizing your incisions when possible and maintaining nipple sensation.
Generally, the procedure length is 1 to 3 hours, and performed either as an outpatient basis if short, or overnight if longer.
Am I an ideal candidate for a breast lift procedure?
During your consultation in Dallas, Dr. Morales will determine if breast lift surgery ("mastopexy") is the best-suited option. Based on the extent of sagging and loss of volume, the incisions employed will be customized to each patient. Some of these incisions are: partial or all around the areola ("dough-nut or concentric"), vertically extending from the nipple to the breast crease ("anchor"), or along the breast crease itself ("crescent"). Dr. Morales typically then elevates the nipple to a higher position on the chest wall and remove excess, sagging skin.
Post-Surgery
The post-operative instructions call for rest and limited upper body/chest movement in order to speed up the healing process and recovery time. Commonly, people are back to work within 5-7 days; strenuous activity and exercise, usually after 4 weeks. Pain is treated with oral medication. Complications are rare however skin healing, nipple sensation and scar care should be reviewed with your surgeon to minimize potential problems after the operation.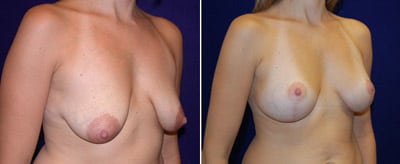 If you would like to see examples of previous patient outcomes, we invite you to view before and after breast lift photos. Dallas Patient testimonials help prospective patients gain insight to the care provided at Dr. Morales' practice, and the available educational videos provide additional details regarding the procedures offered as well as additional images.
"I know that my "outside" beauty has nothing to do with my "inside" beauty. But I do know, by your hands, that for me, now the two match." – Patient Testimonial
Scheduling Your Consultation
Dr. Morales has more than 10 years of experience and is highly qualified to perform your plastic surgery procedure. He is certified by the American Board of Plastic Surgery (ABPS) as well as a member of the American Society of Plastic Surgeons (ASPS). Patients may anticipate a natural-looking outcome when undergoing a breast lift in Dallas with Dr. Morales.
A complimentary consultation may be scheduled by calling Dr. Morales' practice at (214) 827-8407. Patients may also fill out a contact form. Patient registration forms are provided for added convenience, which can be filled out prior to your visit to our office in Dallas.