Posted December 30, 2019 in Breast Augmentation
3 Min Read
Women looking to increase their breast size typically take into consideration a breast augmentation procedure. This procedure increases the breast size and enhances the shape of the breasts by using breast implants.
There are several types of implants, such as saline, silicone, and gummy bear. Each one of these implants provides different benefits and results.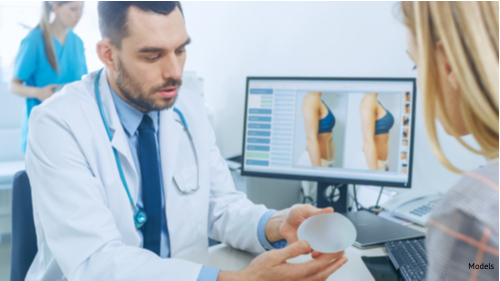 Saline Implants
Pros:
Saline implants are available for all women over the age of 18
The implant is a silicone shell filled with saline, so the body can naturally absorb the liquid if it ruptures
There are many options for incisions so the scars will not be as visible
You will be able to adjust the size of the implant
They are affordable implants
Cons:
Rippling can occur
The implants are rounded so they may not look as natural
Looks less natural
Price
The price of saline implants averages from $250 to $700 per implants.
Recovery Time
After breast augmentation with saline implants, your breasts will be wrapped with bandages to ease the swelling. You can resume regular activities within a few weeks.
Implant Lifetime
Saline implants typically last between 10 to 20 years but might be removed due to any complications.
Possible Side Effects
Some possible complications or side effects from receiving a breast augmentation may include breast pain, scarring, bleeding, infection, problems with the size, sensation in the nipple, and breast implant-associated anaplastic large cell lymphoma.
FAQs
Are There Any Health Issues With Saline Implants?
There are no major health issues with saline implants because the implants contain saline, so it is less likely to become ill from the implants.
How Do I Know When My Implant Ruptures?
Typically, when the implant ruptures, the breast will change its shape within two days since the implant contains saline your body will absorb the fluids.
Silicone Implants
Pros:
Less rippling
More styles of implants
Natural feel and look
Cons:
Must be 22 years and older to receive silicone implants
Large incisions
Ruptures go undetected
Price
The price of silicone implants averages from $700 to $1,000 per implant.
Recovery Time
Typically, after receiving breast augmentation surgery your breasts, will be covered by gauze and will be wearing a surgical bra. You should not do any heavy lifting for the first six weeks after you receive surgery.
Implant Lifetime
Silicone implants last from 10 to 20 years but can be removed sooner due to any complications.
Possible Side Effects
Some complications might be breast pain, scar tissue forming, hardening around the implant, bleeding, infection, sizing, or shape of the implant. Silicone implants are also more likely to rupture than saline implants.
FAQs
Are silicone implants safe?
Silicone implants are reasonably safe but are more likely to rupture than a silicone implant. Once the saline implant ruptures, you may or may not notice it because the silicone stays trapped in the fibrous tissues.
Are there any possible complications when a silicone implant ruptures?
The breast rupture might go undetected, and scar tissue might form, causing pain, soreness, swelling, lumps, or hardening.
Gummy Bear Implants
Pros:
Retain shape
Less likely to rupture
Teardrop-shape
Thicker
Dense
Cons:
Longer incisions
More scarring
May lead to an unusual shape
Price
Gummy bear implants are far more expensive than any other implant. The implant ranges from $6,000 or $12,000.
Recovery Time
It can take up to several weeks to fully recover from this surgery.
Implant Lifetime
The implant will last up to 10 to 20 years, depending on any complications that may occur.
FAQs
Are gummy bear implants dangerous?
Gummy bear implants are safe due to the strength of the implants they are less likely to rupture, but they do leak at times and can be hard to detect. These silent ruptures are why you should get screenings reasonably often with your doctor.
Are gummy bear implants FDA approved?
Yes, the FDA has approved the use of gummy bear implants.
Want to Learn More About Breast Augmentation?
If you would like to learn more about breast augmentation options in Dallas, Texas, contact Dr. Morales at 214-827-8407 or fill out our online consultation page.