Posted October 01, 2021 in Breast Augmentation, Breast Enhancement, Breast Lift
3 Minute Read: 
The process of pregnancy and breastfeeding will likely bring many changes to the size and shape of a woman's breasts. Making milk creates dense tissue in the breasts while nursing stretches your breast skin and tissue, leaving behind sagging, deflated breasts. Additionally, nipple position, size, shape, and the size and color of the areola may also change.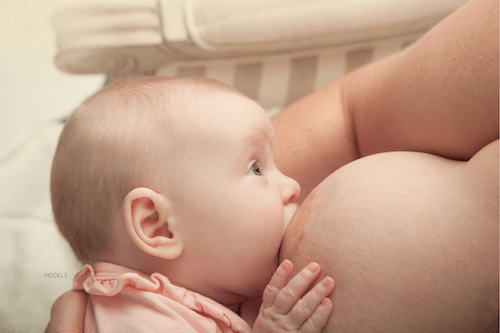 Many women become unhappy with the appearance of their chest after breastfeeding, causing them to consider breast surgery to address the postpartum changes.
Breast Augmentation to Reverse Deflated Breasts
Breast deflation or loss of volume is a common concern for many patients following pregnancy. As milk production comes to an end, the breasts may shrink. Many patients successfully restore fullness and youthful shape by placing implants underneath the breast tissue or pectoral muscle with breast augmentation.
This option is ideal for women who lose volume after giving birth with no significant sagging. Breast augmentation surgery can be performed in combination with a breast lift.
Breast Lift to Deal With Post-Pregnancy Sagging
The breasts' rapid increase and subsequent decrease in size and weight cause the skin to stretch, leading to weakened tissues and sagging. Besides sagging, postpartum breast changes form in the way of enlarged areolas and downward-pointing nipples, making some women feel self-aware, unattractive, and less confident in how they look.
A breast lift, also known as mastopexy, is your best bet at addressing sagging and droopy breasts. The procedure removes excess skin and tightens the surrounding tissue to create firmer, more youthful-looking breasts. The nipple-areola complex is also enhanced for better breast projection.
For women concerned with loss of volume, a breast lift can be combined with an augmentation procedure to restore volume, correct asymmetry, and create a fuller bust appearance. This surgery can also be performed with breast reduction or a breast revision.
Breast Reduction to Minimize Overly Large Breasts
Some women notice that their breasts become significantly larger following pregnancy, so much it impacts everyday living. In these cases, breast reduction may be the solution, helping to remove excess fat and glandular tissue to create smaller, lighter breasts that are proportional to the rest of the body.
Breast reduction is almost always performed with a lift to tighten the newly reduced breasts.
Breast Revision to Correct a Previous Breast Surgery
Following your pregnancy, your breast implants may not look as good as they did before, and a repeat revision surgery may be needed to undo the unwanted changes. 
If, for any reason, you are unhappy with how your implants look postpartum, then a breast revision surgery may be ideal for you.
This surgery can be performed with a breast lift.
When Can I Have Breast Surgery After Having Kids?
None of these procedures are recommended until the breast tissue has stabilized after pregnancy and weaning. Most patients have to wait for about three to six months after they have stopped lactating to get breast surgery.
Interested in Learning More About Breast Surgery?
Are you unhappy with how your breasts look and feel after pregnancy? Dr. Morales can help. With years of experience in plastic and reconstructive surgery, he will guide you through the best treatment plan for your specific needs. Call us at 214-827-8407 or fill our online form to schedule a consultation.