Posted December 20, 2017 in Male Plastic Surgery Procedures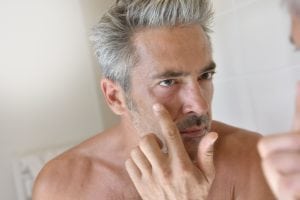 Despite a long history of female domination, men have been seeking more and more plastic surgery procedures in recent decades. With the rise in male plastic surgery, it is clear that men care about their appearances and want to keep looking young. According to the American Society for Aesthetic Plastic Surgery, the top five plastic surgery procedures for men last year were facelift surgery, eyelid surgery, nose surgery, male breast reduction, and liposuction. These procedures can be specially tailored to provide men with the face and body enhancements and corrections they desire.
Facelift for Men
Aging can lead to jowls, wrinkles, and loose skin and fat that often cause the jawline to disappear. Men can undergo facelift surgery to rejuvenate the lower face and neck, eliminate wrinkles and folds, and restore a masculine jaw and chin. Depending on the man's needs, various facelift techniques can be performed to improve facial definition and recreate a youthful appearance.
Eyelid Surgery for Men
While women often mask their aging appearances with makeup, men may have a more difficult time hiding the loose upper eyelid skin and baggy eyelid tissue that give them an aged, tired, sad, and angry expression. Blepharoplasty for the upper and/or lower eyelids can remove this excess tissue and create a more natural, rested, and friendly look.
Nose Surgery for Men
Rhinoplasty is often requested by men who wish they could make their noses smaller, less prominent, or more natural in shape. Through this procedure, Dr. Morales can help men achieve a more masculine nasal appearance and bring the nose into a more attractive balance with the other facial features.
Male Breast Reduction
Even though it affects as much as half of all men, gynecomastia (excess male breast tissue) can be embarrassing, frustrating, and disheartening. Liposuction and excision techniques can remove fat, breast tissue, and skin from the male chest to improve its appearance. This procedure can permanently eliminate gynecomastia and restore a firm and masculine chest contour.
Liposuction for Men
Liposuction can help men trim down stubborn fat in the abdomen, chest, neck, and hip area. Through small incisions, a suction device removes the excess fat and trims down the treatment area. With the reduction in unwanted body fat, the body shape becomes more sculpted, defined, slim, and firm.