Posted May 09, 2019 in Thigh Lift
With spring just around the corner, many patients look forward to dusting off their old shorts and cute sundresses to wear. However, some patients who suffer from loose and overstretched skin on their inner thighs may often feel insecure about the appearance of their legs. While some people can address this issue with a strict diet and exercise, others are not as fortunate. Thigh lift surgery, also known as thighplasty, can address these issues and insecurities by removing excess skin on the thighs to produce a more youthful and aesthetically pleasing contour.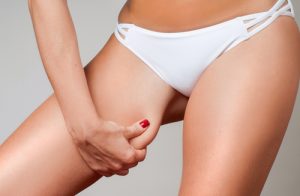 What Is Thigh Lift Surgery?
Thigh lift surgery is performed on an outpatient basis under general anesthesia and may take up to a few hours to complete, depending on the amount of correction needed. During your procedure, an incision will be placed along the treated area as excess skin and fat are removed to create slimmer and more beautiful legs. If the patient only needs minor improvements, a transverse incision will be made near the groin and along the crease of the thigh. Patients with severe sagging will require an incision to be extended around the inside of the leg.
Benefits of Thigh Lift Surgery
Youthful Contours
Pregnancy, significant weight loss, and aging can often result in unwanted changes to your body. This includes stubborn fat depots. When excess fat and skin begin to accumulate along the inside of your thighs, you may start to feel like you look older than you are. Thigh lift surgery can tighten the inner thighs to improve your overall body contour while also smoothing out the skin for a more youthful appearance.
More Clothing Options
Having to deal with loose, hanging skin is not only uncomfortable, but it can also make the thighs look unbalanced. When this occurs, many patients feel compelled to hide their legs by wearing baggy clothes, which can also make them think they are limited to only wearing certain clothing styles. Thigh lift surgery removes excess fat to help accentuate the legs as well as provide you with more clothing options that will make you feel beautiful and comfortable wearing shorts, dresses, and other types of leg-baring styles.
Improved Self-Esteem
Many patients who struggle with unwanted fat deposit and excess skin on their thighs can feel unsatisfied and insecure about the way they look. Thigh lift surgery will not only provide you with smoother and more natural-looking thighs, but it can also boost your confidence and self-esteem as you enjoy showing off your new legs.
Thigh Lift Recovery Guide

Your Thigh Lift Recovery
Following your thigh lift surgery, you will be asked to wear a compression garment to protect your new contours and help minimize swelling. You will experience swelling and bruising that should resolve after a few weeks. It is essential to follow every instruction given to you by your plastic surgeon. Making sure you get lots of rest will also ensure you have a safe and successful recovery.
Shower When Necessary
During your recovery, your wounds will need time to heal. Make sure you avoid getting your incisions wet for at least one week or until instructed otherwise. Once you are cleared to shower, you should use a soft rag and gently dab your wounds with warm water.
Avoid Strenuous Activities
Because your thighs will be sensitive and weak after your surgery, you will be asked to avoid all strenuous activities for approximately four weeks. However, you want to try to incorporate gentle movements within a couple of days in order to maintain circulation. Once you are able to move around better, take your time and move slowly, do not try to rush your recovery. You will also experience some discomfort that can be minimized with pain medications prescribed to you by your surgeon.
Follow Up With Your Surgeon
Making sure you schedule a follow-up appointment is also essential to your recovery. During your follow-up, your surgeon will examine the condition of your wounds to see if they are healing properly. If you notice signs of infection or any other complications as your thighs heal, contact your surgeon immediately.
If you are interested in our thigh lift procedure, please contact Dr. Morales at his office at (214) 827-8407 or set up a consultation with us online today!