Posted September 01, 2022 in Skin Care Treatments
3 Minute Read: 
Skincare has become a big part of self-care for many people. Skin issues can arise at any point in life and can become especially prevalent with age. 
To correct this, most people turn to the skincare products available at their local department store even though they struggle to find something that they know will work for them.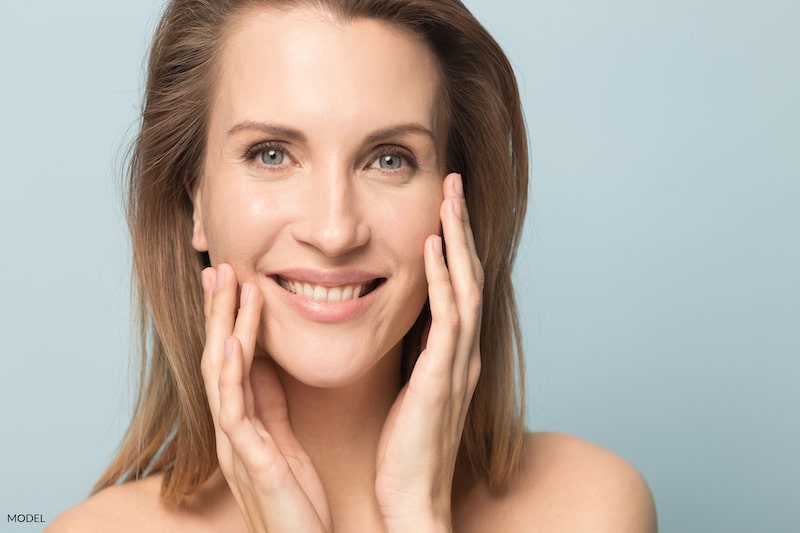 Every person has a unique skin type, so randomly choosing from a shelf may not be the best way to find the right product fit for you.
SkinMedica® is a line of medicated skincare products designed to encourage the healing and regenerative abilities of the body. SkinMedica® is used to rejuvenate and maintain the skin through a series of products picked just for you. 
By trying SkinMedica®, you'll benefit from: 
Physician-Assisted Skincare 
While many skin issues can be treated with SkinMedica®, SkinMedica® is not a one-size-fits-all solution. 
Before you receive your new SkinMedica® regimen, you will get to have your skin evaluated by a licensed physician. This evaluation will help your physician determine what issues you're facing and which products may be best for you. 
This takes the guesswork out of picking your products, which can save you time and money (in comparison to buying multiple products that don't work) and reduce skin damage risks from using the wrong products. 
High-Quality Ingredients
The ingredients used to create your products are essential to their effectiveness. SkinMedica® uses carefully combined solutions to develop products, including: 
Retinol Complex
SkinMedica® uses three different retinol strengths to improve the tone, texture, and strength of the skin. Retinol also helps to increase skin brightness.
HA5 Rejuvenating Hydrator
This product is specially formulated using SkinMedica® 's VITISENSCE™ technology. The HA5 Rejuvenating Hydrator is used to smooth the appearance of wrinkles and facial lines and encourage the skin's production and retention of hyaluronic acid.
TNS Essential Serum
Tissue Nutrient Solution (TNS) Essential Serum is a topical treatment used to address signs of aging, including wrinkles, fine lines, and minor laxity. This serum is packed with nutrient-rich ingredients, such as vitamin C, vitamin E, blackberry extract, hyaluronic acid boosters, and alpha-arbutin (a skin brightener).
Enhanced Skin Quality After Surgery
Facelift surgery is unmatched in its ability to tighten loose skin and reposition facial tissues. BOTOX® Cosmetic injections are in a class of their own when it comes to minimizing expression-related wrinkles. 
Both of these anti-aging treatments restore youthful facial contours, but neither addresses skin quality and tone. This is why a consistent skincare regimen is essential to maintaining surgical results and natural skin health.
SkinMedica® can be used to treat many skin conditions, such as:
Sun damage

Age spots 

Acne 

Dry skin

Oily skin

Wrinkles and fine lines
Some individuals with the beginning stages of aging may be able to postpone the need for BOTOX® Cosmetic, facelift surgery, or another procedure with the consistent use of SkinMedica®. These treatments enhance texture, tone, and resiliency and can revitalize your complexion.
Want to Learn More? 
If you are interested in trying SkinMedica® and would like to learn more about your options, please contact Dr. Morales by calling (214) 827-8407 or fill out this contact form.